A Quinceañera is a wonderful way to celebrate the birthday of a young woman ready to take on the challenges of being a woman. It can be a big deal for your relatives, too, especially if it's a family tradition. One of your top priorities is looking your best for your Quince, but as a teenager, that can create a lot of pressure.
You can have full control over how you'll look on your 15th birthday, though. Following a healthy diet and skin care regimen will bring out your best glow and lay the foundation for beautiful Quinceanera makeup. And one of the best ways to guarantee that you'll look good is to DIY. That way you have full control, plus it's fun, and the tips you learn will come in handy far into the future.
Here are 11 DIY makeup tips that can help you achieve the perfect Quinceañera look:
Highlight Your Collarbones
Your face isn't the only part of your skin that can benefit from a little makeup. You'll already be wearing a beautiful gown, so why not enhance your look by highlighting your collarbone? This gives it a lovely soft edge to your photos and may make you look slimmer.
You'll need:
Bronzer

Highlighter

Makeup blending brush
Using highlighter, make a stripe in a wide V right on top of your collarbone.

Add a narrower V right in the middle of the first two lines from your lower neck to just above the first V.

Apply dark bronzer above and below the highlighted collarbone lines. This creates deeper hollows.

Blend well until your collarbones are the most prominent part of your decolette.
Here's how to apply false eyelashes for a more dramatic look.
You'll need:
False lashes

Q-tip (cut in half)

Eyeliner brush

Eyelash adhesive glue

Mini scissors
First, trim the excess part of the false lashes after measuring how much you'll need for your lid. Here's a quick guide and link:

Using the eyeliner brush, apply eyelash adhesive glue to the upper edge of your lash line.

Attach the fake lashes just above your real lashes.

Using the end of the Q-tip, secure the position of the fake lashes to perfectly surround your eyelid.

Finish by applying a bit of your favorite mascara
Make your Luscious Lipstick Last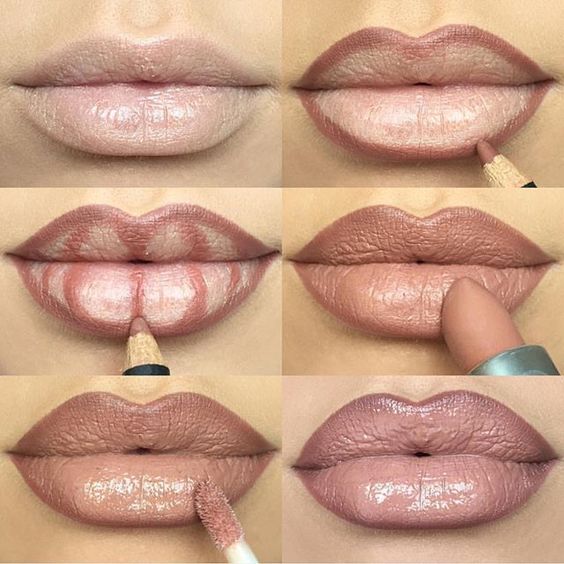 Lipstick doesn't always last as long as you'd like, so here's one way to keep it bright the whole night without worrying about too many touch-ups.
You will need:
Lip balm

Lipstick

Foundation or primer

Powder

Sheet of tissue
Moisturize your lips by applying a moderate amount of lip balm.

If you don't have lip primer, use a small amount of foundation or neutral eye primer and apply with brush or finger.

Apply your first coat of lipstick.

Blot your lips with a sheet of tissue.

Dust your lips with powder.

Add the second coat of lipstick.
This is one of the most popular tricks of the trade! Contouring not only makes your face appear slimmer but it'll also highlight your cheekbones and your nose beautifully in photos.
You will need:
Primer

Bronzer

Angled brush

Foundation / Highlight brush

Highlighter or Illuminator
Cleanse and moisturize your face.

Apply primer followed by foundation over your entire face.

Identify the parts of your face that the light doesn't hit: The upper portion of the forehead near the hairline, below the cheekbones, the sides of the nose and the chin.

Using the angled brush, apply bronzer to these areas. Careful: Be sure to take it easy with bronzer on the nose else it can look dirty.

Use the other brush to apply highlighter to the parts of your face which the light

does

hit: Front part of the forehead, the upper part of the eyelid near the brows, the tip of the nose upwards, above the cheekbones, and the Cupid 's bow above the lips.

Blend well, then add blush
Note: the illustration below is non-blended blush positioning.
Strobing is much easier to do than contouring. You can brighten your face in less time and with less makeup.
Cleanse and moisturize your face before you begin.

Apply primer and foundation over your entire face.

Add stripes of highlighter according to the diagram below, then blend well.
That's all it takes!
This is an easy way to add drama and is a lot of fun once you get the hang of it.
Hint: You can use the Smoky Eye look with a much lighter application for just about any dressy occasion!
You will need:
Large shadow brush

Blending tip brush

Eyeliner

Mascara
Use the large shadow brush to apply a neutral shade—pink, brown, or beige only—all over the lid.

Add a second layer of gray eyeshadow from lashline to just above the crease. It must be darker than the first shade.

Using a blending tip brush, apply gray eyeshadow in a V on the outside of the upper lid. You can use a darker shade than the 1

st

gray.

Apply eyeliner to the lash line for better definition.

Apply highlighter to the inner corner of the eyelid. Blend in horizontally. You can also apply eyeliner on the lower lash line.

Finish off with your mascara and you're all set!
It's important for brows to be well-defined when wearing formal makeup both because it completes the look and because your brows can "get lost" behind the beautiful eye and face makeup. Here's a basic tutorial that you'll find handy for years:
You will need:
Eyebrow pencil

Slanted liner or any eyebrow brush

Spoolie – here's a picture:
Outline your brows with an eyebrow pencil. Be very precise. You don't want to make them look bigger, just add fullness.

Use a precise brow brush and fill in the in brows with little strokes of color, like your drawing in individual eyebrow hairs. Use your favorite eyebrow products, or if preferred, use eye shadow in a shade that matches your brows.

Finish it off by using the eyebrow pencil to define the edges and the spoolie to brush the brows.
Wear Super-Bright Eyeshadow
Your Quinceanera is the one day you don't have to hold back or tone it down. You can choose a bright color that either matches or complements your dress or do a peacock or opal effect with layers of bright metallic. Here's a quick guide for easy bright shadow as the main focus:
You will need:
Eyeshadow palette

Eye shadow brushes

Highlighter

Eyeliner
Apply a peach or pink colored eye shadow to the entire crease. (Hint: You can pretty much follow the Smoky Eye look, just using brighter shadow.)

Choose blue or turquoise shadow for the outer crease and lid areas and apply it.

Apply gold or silver shadow on the inner lid and blend towards the middle of the lid.

Highlight the brow bone.

Put a bit of eyeliner on the upper lash line.
This is a relatively new technique in the makeup world but it is stunning once you get the hang of it.
You will need:
Nude lipstick

Lip liner

Lipstick brush

Dark colored lipstick

Bright colored lipstick

Pink lipstick (matte)

Lip gloss
Apply a nude shade of lipstick all over.

Line your lips with a dark liner

or

a lipstick brush and a dark shade of red.

Apply bright red or pink lipstick all over including over the liner.

Use a matte pink lipstickto coat your inner lips.

Blot lips with a tissue then reapply liner.

Finish off with a slick of lip gloss.
Tip: Use a lip brush to apply gloss both for control and to not smear the look.
Perfectly winged eyeliner is all the rage it's challenging. But here's a hack that can help:
You will need:
Liquid eyeliner

A

very

steady hand
Start by tracing your upper lash line from the inner to outer corner.

At the end, draw an upward wing.

Draw a line from the upward line towards the inner corner of the eye. It should look like a modified triangle

Fill in the lines with the liquid liner being careful not to smudge or color outside the lines.
Tip: It helps to use your other hand to gently stretch the eyelid from the outer edge toward your ear.
This is totally different but creates an amazing effect.
You will need:
Bright or shimmery eye shadow

Eyeliner

Precision liner brush
Apply eyeshadow from the crease down including the inner corner.

Apply eyeliner on the lower lash line

only

from inner to outer corner.

Add a wing at the outer corner.

Using a precision liner brush, perfect the wing by giving it a thin ending point.

Use eyeliner to darken and define the lower lash line.

Line the waterline on the lower lash line
This can be a really cute look for your younger damas or your little sister, too, because it doesn't have a lot of heavy color. It's also great for low-key casual occasions.
Remember: Practice, practice, practice!
Start weeks, even months, before your Quinceañera so you can study what best suits your face. It also helps to practice these different techniques to see which makeup applications best enhance your features.
Final Note: You probably do not want to use every single one of these all at the same time. A fancier lip calls for a simpler eye and vice versa. Use your best judgment. You'll know what to do!