How far out of the box can you think? Our team came up with way too many ideas for just one blog, so check out these Stunning & Unexpected Quinceanera Themes Part 3 ideas.
Here's our last shot at the best original and unusual Quinceanera themes we could find. For sure you'll find an idea that's interesting, charming, and makes your Quinceanera day all about you!
To get details on specifics like invitations and outfits and decorations, just type in a search using our keyword and include a search for "party" in that theme. For instance, search both for "retro theme Quinceanera" and "retro theme party." It couldn't be easier!
Stunning & Unexpected Quinceanera Themes Part 3
22. Retro Revival
Be a hippie for a day! Make a peace symbol and rainbow photo booth, and even have a tie dye cake. Carry a bouquet of tie dye roses, then take a simple white Quinceanera dress and add a pop of rainbow color by adding flowers or a rainbow underskirt!
Here's a tutorial on DIY tie dye socks that will work for t-shirts, table runners, and just about any long fabric you want to use for your Quince: http://ilovetocreateblog.blogspot.com/2013/02/how-to-make-tie-dye-rainbow-socks.html
23. A Rainbow of Balloons
If you love the rainbow colors of a Retro theme, but want to stay more traditional, make balloons your Quinceanera theme. Balloons are fabulous because they're easy to work with, everybody loves them, and the price couldn't be more perfect! Add ribbon and paperweights for balloon centerpieces, position a balloon arch at your venue entrance or over your head table, and for one of the most creative photo backdrops ever, make a balloon wall for photo ops.
Here's a great DIY blog on how to make a wall using different styles of balloons: http://lessonslearntjournal.com/balloon-wall/
24. Renaissance Flair
Add a touch of the classy Renaissance era to your Quince with long banquet seating and plenty of pearls.
CLICK on the IMAGE
to check out this authentic Renaissance dance that was choreographed for  a Quince fairytale waltz. 
Hint, hint: See how lovely the dance is even though it's not perfect?!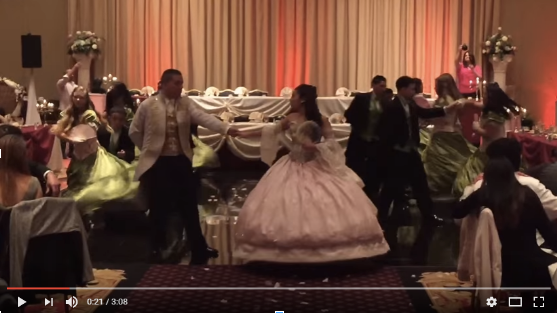 Stunning & Unexpected Quinceanera Themes Part 3
25. Be a Sport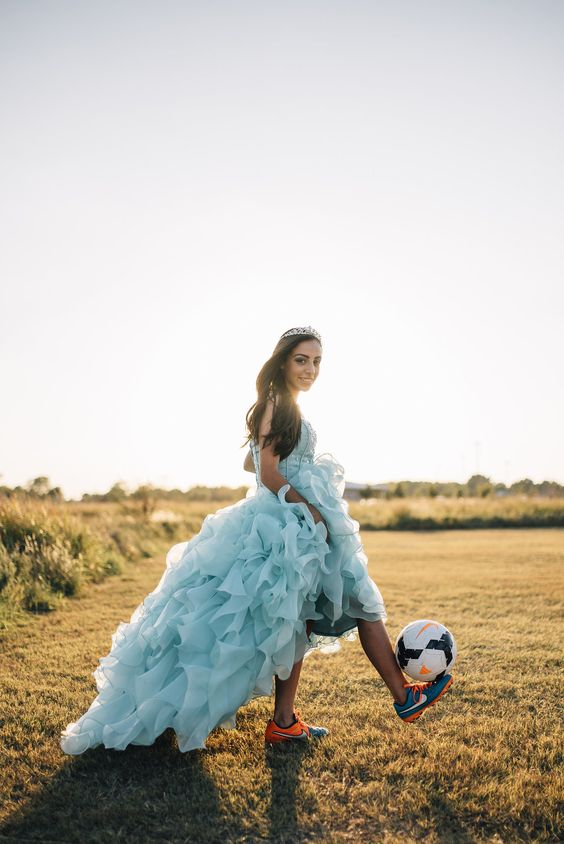 Show off your athletic side and bring your sport into your Quince. Decorate according to the game you love, serve treats like at a sports park, and be sure to take portraits of you in your Quinceanera dress standing on the playing field. You could even dress your court in sports outfits for your surprise dance!
26. Southern Belle of the Ball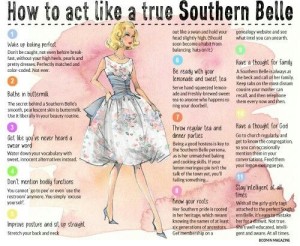 Do you love everything Southern? Set your tables for a tea party  with pastel colors, parasols, and a dinner including fried chicken and sweet tea!
27. Steampunk
If you love the fantasy literature of Jules Verne, H.G. Wells, and Mary Shelley's Frankenstein, a Steampunk Quinceanera could be right up your alley. Combine the feminine glamor of Victorian clothing with just a touch of gothic, and the sharp edges of machinery pieces in your centerpieces. For inspiration, watch the movie The League of Extraordinary Gentlemen—which actually features a woman!
Stunning & Unexpected Quinceanera Themes Part 3
28. Superhero
Use your super powers to steal the show with a Super Hero Quinceanera! Take a cue from a DC Comics wedding trend and have a "Two-Faced" cake, then hire a facepaint artist for your photo booth.
Ask your choreographer to create a "group fight scene" for your surprise dance. Check this out for ideas: https://www.youtube.com/watch?v=BwMLs3sek6Q
29. Twilight
For a Twilight party Alice Cullen would be proud of, conjure up a dream evening with an immortal Quinceanera theme. And if you can recruit a truly romantic guy for your head chambelane, you can reenact the key Twilight movie stills for your photo shoot!
Check out this link for fabulous Twilight party ideas: http://www.kandykreations.net/2010_06_11_archive.html
30. Wizard of Oz
Follow the Yellow Brick Road! Dress for your ceremony in a deep blue Dorothy-inspired dress, carry a Yellow Brick Road bouquet, then add a super-tall tiara. Create a Munchkinland sweets table, build a photo booth with a green curtain like the Wizard himself, and add a touch of evil magic with Wicked Witch broom props.
Here's a tutorial for authentic looking DIY ruby slippers: http://www.instructables.com/id/how-to-make-ruby-slippers-from-wizard-of-oz/
31. Lime & Glitter Zebra
For sure you've seen a lot of Quinceanera zebra prints in hot pink and black, but black and lime green is dazzling, and you can't get any classier than classic black and white zebra print! This theme is easy to work with because you can use a lot of solids. Just scout your party supply stores for solid lime green supplies then put them together with black and white stripes.
Don't miss the rest of our Stunning & Unexpected Quinceanera Themes series! CLICK ON EACH IMAGE below to check out more ideas: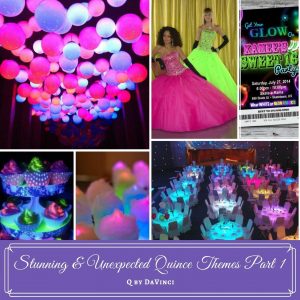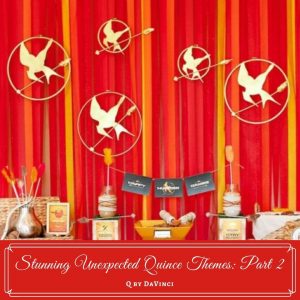 For the very best collection of great ideas for planning your Quinceanera & adapting to circumstances that may have delayed your big day, Click HERE or on the image below for Q by DaVinci blog: