Planning is fun, but when it comes to your Quinceanera budget a bottom-line guide like this can save you time & a load of headaches.
Just like weddings, elaborate Quinceaneras require a 12-month planning period. This is essential because planning makes room for financial adjustments.
Fortunately, your 15th birthday is a family centered celebration, so you have your parents and godparents to help you with the total cost. Still, if you want organizing your Quince to be smooth sailing, you need a budget-conscious plan.
And because you can plan your dream Quinceanera on a budget, we've put together a handy guide to help you know what things are required for a successful yet cost-effective celebration, and how much you can expect to pay.
Your Quinceanera Budget: A Bottom-Line Guide
Venue Rental: $350-$10,000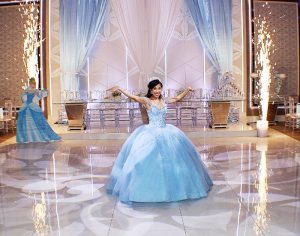 The location of your party sets the scene, everything from the theme to the decorations and more. If you plan to spend your Quince in another country, or even very far out of town, expenses may be doubled because your friends and family will need to travel. Either way, try to keep your venue in close proximity to where everyone lives or will be staying.
Once you have a general location, look at the type of venue. Hotels can charge from $500 all the way up to a few thousand dollars to rent a ballroom for an event. Usually, that includes tables and chairs and sometimes table linens—and if so, then either plain white or very limited colors—but that does not include food. If you have a large crowd, why not start your budget off easy by choosing a barn, garden, or beach? Also, always ask for promotions or discounts during low season.
Tip #1: Make sure the venue has a space large enough for the traditional dances.
Tip #2: If your backyard—or the yard or home of one of your friends or relatives—will accommodate your crowd, give that serious consideration!
Decorations: $150 & Up
Very few venues come with decorations other than perhaps standard table linens. Even cheap centerpieces will run you at least $5-10 each, and if you want any kind of ambiance and color, then you're talking serious flowers plus lights, maybe balloons, pretty colored linens, all of which cost extra.
Tip: Plenty of themes make a statement but don't cost a fortune. Check out
Flowers: $500-$1,000 & Up
Floral design is an essential Quinceanera element because flowers represent femininity. A significant cost-cutting consideration is to use hydrangeas. They have much larger blooms than roses, so you only need a few for centerpieces. The other best cost-cutter you can implement is to stay in season with each and every bloom.
When it comes to vases, you don't need a planner to make them beautiful. You and your damas can make gorgeous DIY flower holders, even just ordinary glass bottles decorated with glitter. Put them on the tables for centerpieces, use them to hold party favors on a candy table, or use small ones to hold tea lights. In addition to saving a few dollars, you'll get to bond with the ladies in your court!
Tip: Don't choose flowers that have to be shipped in, either because they're out of season or because they're not readily available in town.
Your Quinceanera Budget: A Bottom-Line Guide
Dress: $200-$1,000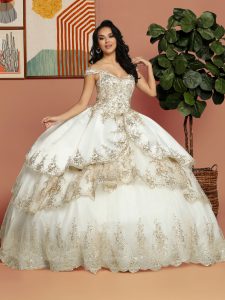 Q by DaVInci Zeia Couture Style #3126
A Quinceanera gown will probably cost at least $200 depending on your theme and venue. And yes, you absolutely must look stunning on your birthday. However, spending more money does not necessarily guarantee you'll look more beautiful. There are lots of options—if you're willing to make an effort—for cost-effective dresses that look equally gorgeous as designer gowns. Especially keep an eye out for seasonal sales at your favorite retailer.
If you absolutely must have a tailored ball gown, at least be sure to choose fabric suitable for the weather during your Quinceanera month. You don't want a heavy satin gown in the middle of July! Even if your Quince falls in the cooler months, there are lovely—and much less expensive—fabrics that are still stunning.
One last tip is not to worry about a dress that looks right silhouette-wise and is in a fabulous price range, but that you think is too plain. You can always have your retailer add embroidery or beadwork, and you yourself can DIY ultra-glamorous accessories.
Hair and Makeup: $70-$150
Book your stylist at least 6 months before the big event. The good ones are always taken first so move quickly on this one. You can opt to have the stylist come to your house, or your can have hair and makeup done at the salon.
Since makeup and hair styling services by professionals are very expensive these days, DIY works well as long as you're skilled at it. If you have a best friend or cousin who is just amazing, why not ask her to help?
Tip: Book one professional makeup session, perhaps at a beauty school, and ask for an instructor to guide the student as to what looks most lovely on you as a "basic natural look." Take notes on products used and placement of blush and shadow, plus any contouring. Then go surfing for DIY tutorials that build on that look and add party-worthy hues to the mix like brighter blush and lipstick and definitely fancier eye makeup.
Your Quinceanera Budget: A Bottom-Line Guide
Reception Food: $750-$10,000 and up (50-200 guests)
The number of guests is a crucial determining factor for your budget. On the low end, if you have a no-cost or low-cost venue and potluck your own food, it'll be a lot cheaper. If you have a catered meal, even at a cost-effective venue, it won't come cheap. The general price range these days is $75-$100 per person for a catered dinner, depending on what you include for drinks.
Since the guest of honor at a Quinceanera is underage, as well as almost all of her friends, the per-head cost will be lower because you probably won't have much of a bar tab if any. But even at a super-discounted rate of only $50 per person, 200 people will cost you $10,000. (Can you say "ouch"?)
So how do you fix this? Guest list!
Since a Quinceanera is primarily a family affair, relatives, and very close friends are usually on the list. But before inviting anyone else, remember: It's not just the dollar-amount-per-person for food and drinks that counts. You have to factor in invitations, party favors, and even thank you cards.
If you've got a nice big budget, run with it. If not, give some thought to how much you want to spend, and who you really want to spend that money on.
Cake: $150 & Up
Just like with weddings, ordering the cake should be done months before especially if you want fondant or handmade sugar flowers. Tier cakes also require time for the pastry team. Quinces nowadays don't necessarily follow the traditional white and pink cakes. These days you'll see 3D effects, LED lights, and elaborate construction.
You can also have a very nice cake done by someone in your family or a friend. What you choose will all depend on your budget.
Tip: You could ask one of your Padrinos to take charge and specifically sponsor your cake!
Miscellaneous Food and Drink: $10-$30 per person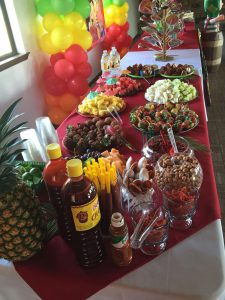 In addition to the main meal, you'll probably need some extras. Even plated hotel dinners don't include hors d'oeuvres, so count those in as well. You might also want a sweets table or some special drinks. Know that all these extras are also charged per head, so that guest list is, once again, a deciding factor.
One option—if you plan to have someone cook the main meal—is to order some appetizers from a restaurant or other source. That will let your guests snack during the opening portion of your reception program. It'll also take some pressure off your friends and relatives in the kitchen as they prepare the main course.
Entertainment: $100-$1000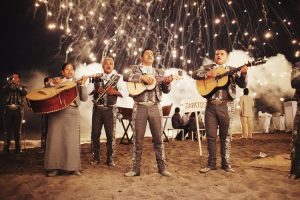 DJ's and MCs may cost you up to $1,000. Bands run even higher. But there are a number of happy alternatives.
If you have friends who are in a band, ask them to play at your party.

Have a traditional mariachi band, but for only a

small

portion of the evening.

The most cost-effective option is to have your favorite music piped from your Mp3 player or iPod into party-size speakers.
This option will definitely make your parents' wallets happy because buying you a few hours of downloads is a lot cheaper than even one hour of any type of professional entertainment!
Your Quinceanera Budget: A Bottom-Line Guide
Last Doll: $50-$200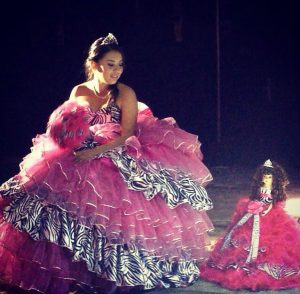 Because this doll signifies the end of childhood, many want the doll's attire to match the Quinceanera dress, and sometimes they want it to look like the celebrant. Some of the fancier store-bought dolls can cost up to $160, so you might have to decide which to spend more on: Your dress or your doll?
Tip: Consider buying a simple doll then having your mom or a family friend make its dress. Sometimes the celebrant has her real last doll—the last one she played with—that's in good enough condition to be decked out in a beautiful dress.
Favors: $100-$400
In addition to the invitations, you'll want a memento of the fun times your guests spent at your 15th birthday. But because every store-bought memento imaginable is expensive, DIY is the only sensible way to go here. Don't worry if you yourself aren't particularly craft-inclined, though. We can pretty much guarantee that the gals in your court will have a blast brainstorming and then helping you. Or again, you can ask one of your sponsors to be specifically in charge of the favors. You might even have a cousin or aunt who adores making things. If so, rejoice!
The Real Bottom Line: Creativity Saves Cash!
We have only one last thing to say: The farther you think outside of the traditional Quinceanera box, the more you'll save.
Yes, it's that simple!
Check out our three part series on great Quince themes!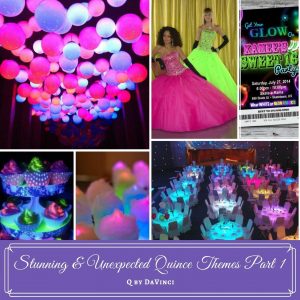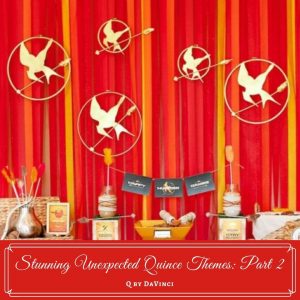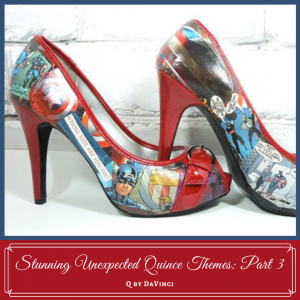 For the very best collection of great ideas for planning your Quinceanera & adapting to circumstances that may have delayed your big day, Click HERE or on the image below for Q by DaVinci blog: