When it comes to your Quince celebration, centerpieces are the key & our Top Tips for Quinceanera Centerpieces & Head Table can help.
What do you love?
Flowers?

Balloons?

Candles?

Mini chandeliers?
Whatever suits your taste & personality, always keep in mind your party theme and colors.
Once you have your theme, start scouting for ideas for fabulous centerpieces and ideas to make your head table the perfect focal point—and you can start right here!
Top Tips for Quinceanera Centerpieces & Head Table
Height is everything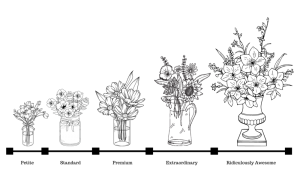 In order to avoid blocking your guests' sightline (which will be a serious hindrance to conversation) keep in mind these two important guidelines:
Tall centerpieces must be higher than your guests' heads.
Low centerpieces must be lower than your guests' chins.
Your centerpieces must coordinate with your tablecloths and any chair decorations. Hint: If you make sure every single detail complements the others, your theme will fall into place without you having to think too much about it!
Think minimalist: Less is More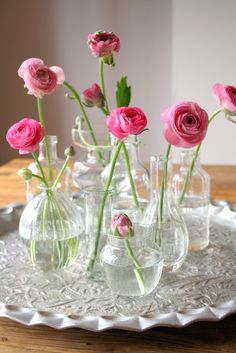 Minimalism is one of the most successful trends in both event planning and interior design because it naturally helps create an elegant atmosphere. When it comes to your Quince, apply this rule by either using only 1 or 2 different colors or single solid color vases—wine bottles, metallic flower vases, white ceramic vases, etc.—or do one dramatic vase with colorful flowers or decorative plants.
Tip: Here's a tutorial for gorgeous tall centerpieces you can make in only 5 minutes! Click HERE or on the image below for DIY Elegant Quinceanera Centerpiece in Less Than 5 Minutes: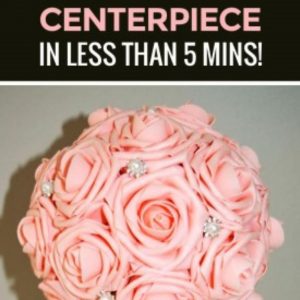 Use statement flowers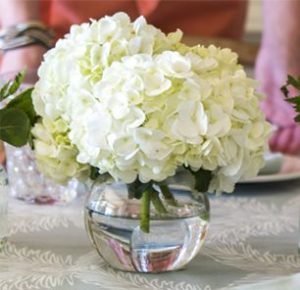 The idea is to either use one or two big statement blooms or to use smaller, less expensive flowers but in groups sort of like a tight wedding bouquet in a vase. The most popular flowers these days are lilies, daisies, hydrangeas, and tulips. Heliconia is also popular for Quinces with a tropical flavor.
If you still want an over-the-top look, use tall crystal vases. They give a sophisticated air and make it look as if the flowers are floating in the air.
Top Tips for Quinceanera Centerpieces & Head Table
Create a visual effect
If flowers aren't your thing, there are still a ton of options. Go for crystal figurines, candles, mirrors, maybe even origami. The idea is to keep the look contemporary and really make a statement.
Top Tips for Quinceanera Centerpieces & Head Table
Head Table Tricks of the Trade: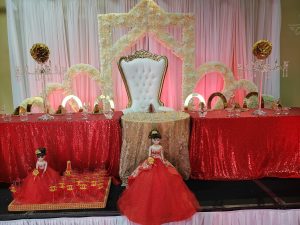 Again, the key phrase when it comes to your head table is less is more. But this time, you want that "less" to be bigger and more dramatic. Here are some of the top tricks used by event planners to make a knockout head table:
DIY a standout backdrop:

These are easier than you think and can be as simple as ribbons strung on a PVC pipe frame.

Raise the height:

Put your head table up on a stage (hint: you can DIY a low stage using shipping pallets).

Add color:

This is where using 2 colors in your theme can really make things pop.

Add lighting:

DIY Christmas lights under a transparent curtain, or ask either your event coordinator or your local party supply store about uplighting using colored bulbs to match your theme.

Use your name or initial:

Create either your full name or your first initial, nice and big, in flowers, glitter or lights, either centered behind the table or as a dramatic centerpiece.

Use fancier linens:

Think embroidered tablecloths, gathered and pintuck skirting, and big floral prints or stripes.

Use big flower arrangements:

Put an oversized arrangement on a pedestal on either side of your table. You want the total height at least 6 feet, taller if you can.
But before you say, "I can't afford great big flower arrangements," keep reading…
Top Tips for Quinceanera Centerpieces & Head Table
How to Stretch your Quinceanera Flower Dollar:
It's not uncommon to pick out a gorgeous array of flowers and arrangements for your Quince, then practically have a fainting spell when you see the potential bill. That can be a huge disappointment, so before you visit your florist, think about your budget. Flowers can be expensive but here are 8 of the top tips for having gorgeous Quinceanera flowers while still keeping your budget under control.
Tip #1: Use seasonal & local Quinceanera flowers

Ask your florist about locally-grown roses instead of tulips that need to be flown in all the way from Holland.
Tip #2: Choose the biggest blooms you can find
The bigger the flower, the fewer you'll need, and that goes for all of your Quinceanera flowers. You can make everything pop—your bouquet, your centerpieces and the attention-grabbing arrangements on your head table—if you use large blooms.
Tip #3: Switch out pricey flowers for cost-effective ones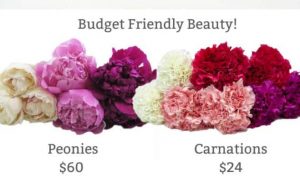 Here's a general price range for flowers from highest to lowest:
Most expensive:

Orchids, peonies, lily of the valley

Still pricey:

Roses, anemones, tulips, ranunculus, calla lilies, stephanotis, lisianthus

More cost-effective:

Chrysanthemum, cosmos, daisies, dahlias
Tip #4: Use only 2 varieties of flowers
The more flower varieties you use, the higher your florist bill. But if you can stick to 2 statement flowers, your florist can order in bulk. You'll have a lower charge for labor, too. Every type of flower has to be handled differently, but if your florist's staff only has to deal with 2 varieties, they can put your arrangements together quicker.
Hint: Take a cue from this wedding—they did all the flowers DIY by ordering in bulk from Sam's Club! http://diywhyspendmore.blogspot.com/2014/03/flowers-from-sams-club-for-wedding.html
Tip #5: Make your bouquet do double-duty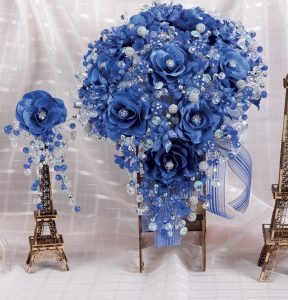 You'll want to take plenty of pictures of your Quince bouquet, but you don't have to leave it at the altar. When you arrive at your venue, either put your bouquet on your head table as a centerpiece or on your cake table for a dash of color.
Tip #6: Bulk out your arrangements with greens like ivy and leatherleaf
Every flower pops in front of lush greens, Ask your florist to show you some arrangements using greens as the majority of the filler.
Tip #7: Use oversized and unique greens like giant fern leaves, space-filling fresh or dried baby's breath, or non-floral decor like feathers.
Especially if you want tall table centerpieces, you'll want something that takes up some air space above each table. And for your head table, things like ferns and feathers will move gently in the air, making your head table even more eye-catching than it already is.
Tip #8: Artificial flowers rock!
You don't need every flower to be fragrant. In fact, a room full of carnations and roses can be overpowering. Hydrangeas are one of the best artificial flowers you can buy because they're the one fake flower that comes in just about any color you want to match any theme and they don't look artificial! As soon as you have your theme color, start watching your local craft stores for sales.
Hint: The best thing about artificial flowers is that they last so you can use them again! And if you don't use them yourself, you can share the wealth with you sister Quinceanera whose party is a few weeks or months after yours.
Top Tips for Quinceanera Centerpieces & Head Table
The Key to it All: Be Creative but be You!
When it comes to Quince flowers—and Quinceanera planning in general—the most important thing is to be bold and be creative.  Play around with colors, lights, and textures to make your Quince your own. Then for sure the spotlight will be on you and your fantastic imagination!
If you want to be completely original, Click on the image below to check out these Stunning & Unexpected quinceanera Themes: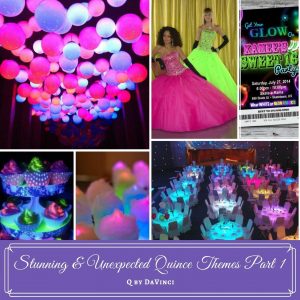 For the very best collection of great ideas for planning your Quinceanera & adapting to circumstances that may have delayed your big day, Click HERE or on the image below for Q by DaVinci blog: