No matter how you plan it—old-fashioned, chic, or totally contemporary—your Quinceanera day will be beautiful, memorable and fun simply because it's your Quinceanera. But Quinceanera receptions are a little like salsa. Depending on your taste, they may be mild and traditional, a little bit spicy, or smokin' hot. If you're looking to ramp up the fun a notch or two—or three or four—you've come to the right place! We've got 10 fabulous ideas that can take your Quince from amazing all the way up to astonishing.
1. Have a game or two for your guests
You can have some games ready for your guests while they wait for you arrive, and some others to play at different times during the reception. Here are a few ideas:
Have one giant bingo card on each table before everyone arrives. Then while they're waiting for you to take pictures, have someone call the numbers and the table that wins gets a little prize basket with goodies for them to share—maybe homemade treats (baked by you

personally

, of course!).

Tape a prize to the bottom of one guest chair. Then at some point during the evening, ask the DJ, your dad or your Padrino to have your guests to look under their seats. This prize doesn't need to be fancy or expensive—maybe a $10 gift card or a couple of movie passes—something practical that works for everybody.

Play "Hot Potato" with something like a small bean bag. The winner at each table gets the prize—perhaps the table centerpiece to take home at the end of the evening.

Play charades or Pictionary with prompts especially geared toward Quinceanera traditions and words.
2. Get everyone to dance your baile sorpresa
Start out with a solo or couple's dance with you and your escort, then have your court come up and start a line dance. Then have the DJ invite everyone to the floor. You can do a retro disco hustle, a country & western line dance, or even reincarnate the Macarena!
3. Have a Quince slideshow that includes goofy family photos
Build your slideshow of beautiful pre-Quince formal photos and cute growing up pictures, then add a few totally outlandish family pics. These can be from the past, or you can create the goofiness especially for your Quince. Your court of honor for sure will be up for a few silly poses during your dance rehearsals!
4. Throw in an Hour of Karaoke
This is easy if you hire a DJ who also does karaoke. A good place for this might be between the end of dinner and the start of your surprise dance.
Tip: This is actually a very practical plan because you and your court will have a little time to let you dinner settle. You don't want to go jumping around on full stomachs and risk nausea—or worse!
5. Have a Fog machine & light show
If your DJ does karaoke, he or she may well already light options. If they don't have fog, you can buy or rent a machine.
Tip: If you buy the fog machine, you'll have a built-in atmosphere maker for Halloween or New Year's parties.
6. Plan a Piñata
This is great for both little kids and your friends. You can even have 2 piñatas—one for the kids filled with candy and one for your friends with goofy things like rubber bracelets and light up earrings.

7. Have a girl-asks-boy dance

This is a fun thing to include and is really simple. Ask the DJ to announce that the girls need to ask the guys to dance, then you lead off by dancing with your dad or your escort, maybe even your brother.
8. Cake pops!
Must we say more? They really are a lot of fun, and you can stack them in tiers around your cake, make a "cake pop bouquet" for a centerpiece, or use them as giveaways or prizes.
9. Start—or end—the party with a dance-off
At a dance off, everybody gets on the floor and dances for as long as they can until the music stops. But if they stop while the music is still playing, the scorekeeper raises a sign that says "You are Out."
A good time for a dance-off is after dinner, and you can hand out trinkets to everybody—glow bracelets, light up jewelry, noisemakers, etc. You can also play a few rounds at different times of the evening, maybe even award prizes for the best or most creative moves—or the most ridiculous.
Here's exact directions on how to pull off a dance-off: http://www.party411.com/planyourparty/occasion/birthday/sweetsixteen/sweet16partygames.aspx
10. Hold a Traditional Recalentado
Invite some of your closest friends and family to breakfast or brunch the morning after your Quince. The tradition is called the recalentado—the "re-warming." That's because you literally warm up the leftovers from the night before and have a mini-party. This can be especially fun if you have your damas for a sleepover after your reception. The best part is, you can have one more fabulous feast that nobody has to cook!
One word of caution
:
We know all of these ideas are great, but don't use all of them for your Quince. Save a few for your graduation party in a couple of years!
If you've just started planning & need a super-simple guide to help you put together your Quinceanera, Click HERE or on the image below check out our blog on 15 Steps for a Perfect Sweet 15: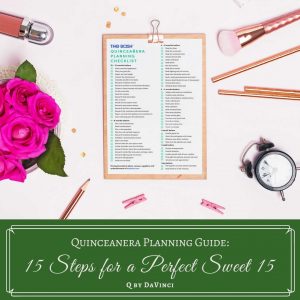 For the very best collection of great ideas for planning your Quinceanera & adapting to circumstances that may have delayed your big day, Click HERE or on the image below for Q by DaVinci blog: