Your Quinceanera bouquet may be the most important accessory next to your dress, so you want it to be as creative and personal as the rest of your theme. Just because it's winter, though, doesn't mean your bouquet has to be all winter white or icy blue—or Christmas red and green. There are so many textures to winter that can be used to make a real statement piece of your bouquet—and the best part is that many of these textures and colors don't work for warm weather quinces, so yours will be truly original! Let's look at some ways to personalize your bouquet to make this winter Quince accessory definitively one of a kind.
1. Creative Seasonal Naturals
There are some gorgeous seasonal blooms and non-floral items that only work in the winter. Pine cones, evergreens, poinsettias—all of these will give your bouquet a distinctive look. And we have 3 ideas for you that don't require expensive roses or other flowers!
Poinsettias & Evergreens:
Pinecones & Baby's Breath:
2. DIY Ribbon Flowers
There are few things softer and more feminine than flowers, and those made of ribbon won't wilt and fall apart. It's even more fun to make them yourself. We've rounded up 3 different tutorials, each one a little different, so you can play around and see which one—or ones—you like best.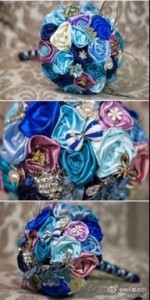 3. All—and Only—Dramatic Crystal
The best thing about a crystal bouquet is that you can keep it super simple with dazzling clear crystals:
Or add a touch of color:
4. Just Plain Pearls
This is a stunning bouquet and easy to make, too! Here's the super-simple tutorial: http://www.nbeads.com/article-diy-pearl-bouquet-722.html
5. Feathery Elegance
Skip the traditional flowers and choose feathers, maybe with a few crystals thrown in. And again, you can go all dazzling white, or use a stunning color that goes with your theme.
6. Beautiful Brooches
Bouquets made of vintage pins are all the rage. You can raid thrift shops, flea markets, and even the cheap jewelry bin at your favorite dollar store. Make the bouquet as colorful or focused as you like.
We love this one with the tiny quinceanera crown!
Here is just about the easiest brooch bouquet tutorial we've seen—that uses a styrofoam ball to hold everything together! http://www.thestonybrookhouse.com/2015/10/how-to-make-beautiful-brooch-bouquet.html
7. A Bit of Bling
If you still want fresh flowers—or simple silk flowers—but also want a little sparkle, ask your florist to put crystals in the throats of the blooms and maybe a few sprays of crystals in the bouquet itself.
8. A Little Bit of Everything
These three sweet bouquets have it all! One incorporates satin flowers, crystals, pearls and delicate satin bows. What could be more feminine?! The second combines the textures of pine cones and berries plus the bling of brooches. And the third is the ultimate eco-friendly recycled wonder and includes everything from book pages to—believe it or not—toilet paper rolls!
This site (which is where we found the above bouquet!) has dozens of eco-friendly and affordable designs: https://www.ecoflower.com/
9. Paper & Nature
If you'd like a little touch of fresh florals but are looking for something more creative, check out these two bouquets.
You can carry a petite nosegay with baby's breath:
Or mix paper

and

fresh roses:
10. The Ultimate DIY: Origami!
Care to try your hand at paper skills? Origami isn't as complicated as it looks once you learn the patterns. And you can make a bouquet using just about any kind of paper you want—solid color, sheet music, wallpaper border—you name it!
Red, Ribbons & a Tiny Touch of Bling:
Over-the-Top Theme Bouquet (this one is Beauty & the Beast):
Here's a tutorial with 40 different origami flowers of all different difficulty levels: http://www.cuded.com/2015/04/40-origami-flowers-you-can-do/
No matter which bouquet you choose, these striking creations will for sure give you some ideas for the most personal and creative winter Quinceanera bouquet ever!
For ideas for gorgeous dresses to go with these knockout bouquets, check out our holiday Quinceanera dress blog:
7 Scrumptious Holiday Theme Quinceanera Gowns
We've also got a blog on how to use classic traditions and decorations for your holiday Quince. Check it out here:
15 Ways to Use Traditions & Decor for Your Holiday Quince