Traditional or modern, there is one unbreakable rule for all all Quinceanera Menu Themes & Fun Ideas: Serve good food and serve plenty of it!
Originally, the idea behind a Quinceanera celebration was to "celebrate" that the birthday girl had learned to cook and clean and perform other household skills in order to snag a good husband. (Aren't you glad those days are over?!)
Modern Quinceaneras are far different, but the one thing that will never change is the rule on lots & lots of great food.
While you most likely won't have to cook your own feast, you will have to choose a menu that will please your particular crowd. You may want all traditional, or switch things up.
To get you started thinking, we've put together a super-simple primer with menu items that can add either a classic touch or a contemporary twist to your Quince feast.
(But you don't have to cook any of them unless you want to!)
Quinceanera Menu Themes & Fun Ideas: Traditional Quinceanera Menu
There are certain foods unique to a traditional Quince that you won't find in other cultures. Here are a few of the classics:
Cabrito: A classic dish that originated in Monterrey, Mexico, cabrito consists of a young goat that's cooked on a spit over a slow-burning charcoal fire. This gives the meat its classic smoky taste and also makes it more tender.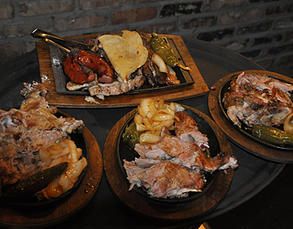 Picadillo: A combination of minced beef, tomatoes, peppers, and onion, sometimes also with peas, carrots, or potatoes. Serve picadillo by itself or use as filling for tacos, burritos, or tamales. It's also often served with rice and/or tortillas.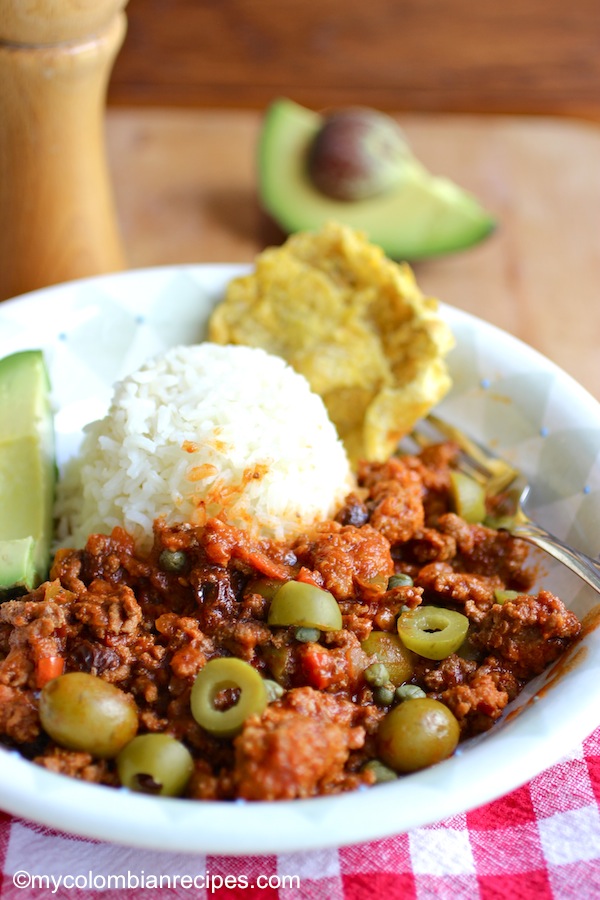 Dessert: In addition to your cake, there are several customary Latino sweets. Here are two classics to get you started: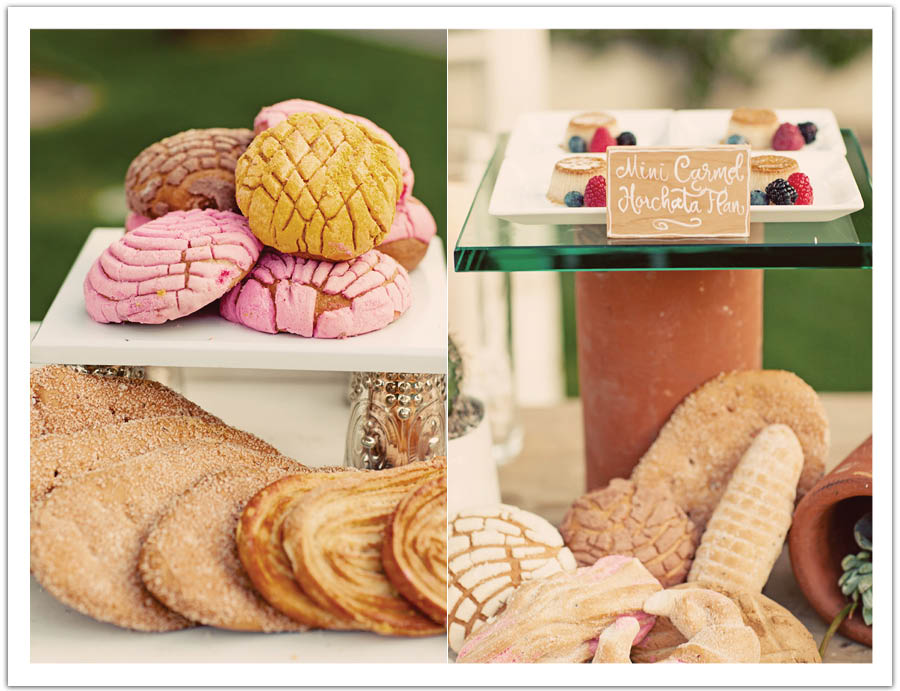 Arroz

(creamy rice pudding)

Pan de Polvo

(Mexican shortbread cookies with cinnamon and anise, often dusted with powdered sugar)
For a Hispanic Buffet:
Serve rice, beans, tortillas, enchiladas, tostadas, and tacos.
Other traditional options:
Green salad

Tortilla chips and guacamole

Chicken, pork and, cheese tamales

Carne asada and al pastor tacos

Pozole or Menudo

Rice and beans

Pan dulce, conchas, and churros
Quinceanera Menu Themes & Fun Ideas:
Take your Quince Feast International!
If you just adore a particular ethnic food group, why not serve it at your Quince?! Here are some popular international menu ideas, some of which you can make at home.
Greek Theme Quinceanera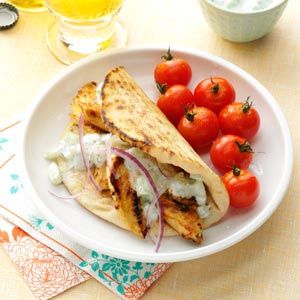 If there's one culture famous for unique food, it's Greece. The most common is the gyros, a combo of beef and lamb roasted on a spit. It's the one thing that will make your Quince absolutely Greek!
Here are some other ideas for a Greek menu:
Gyros (of course!)

Kabobs

Greek salad with feta cheese

Stuffed grape leaves

Moussaka (baked eggplant & beef)

Pastitsio (Greek lasagna)
Click HERE or on the image below for a great moussaka recipe: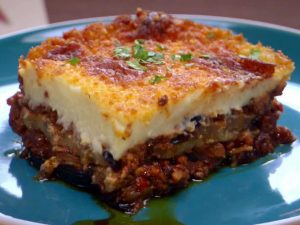 For a pastitsio recipe—and lots more about Greek dishes—Click HERE or on the image below: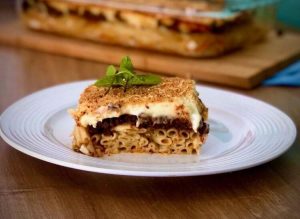 Oriental Quince Menu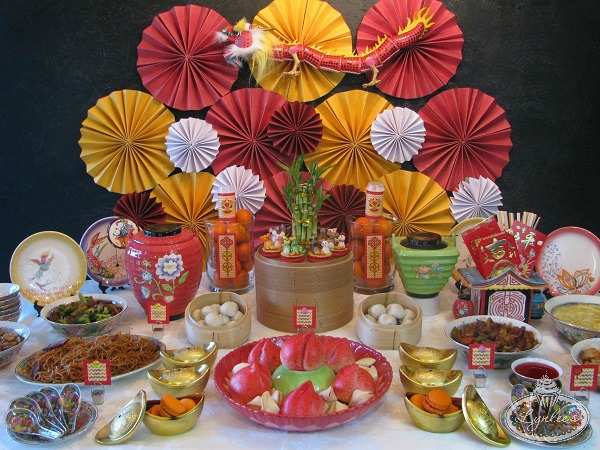 Take inspiration from your favorite Chinese takeout or Japanese restaurant:
Sushi station (you could even hire a real sushi chef!)
Egg Rolls
Lo mein (noodles with vegetables)
Chicken or beef with oyster sauce
Fried rice
Almond cookies
Parisian Quinceanera Menu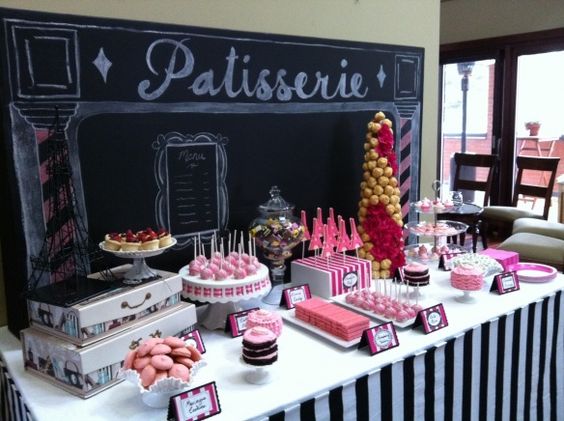 Take your guests to The City of Lights with your Quinceanera menu. Here are a few classic French dishes:
Salad nicoise (beautifully arranged platters of vegetables in a light dressing)

Melon and ham brochette

French onion soup

Baked brie

Chicken Cordon Bleu

Steak Bearnaise
Quinceanera Menu Themes & Fun Ideas:
Seafood Feast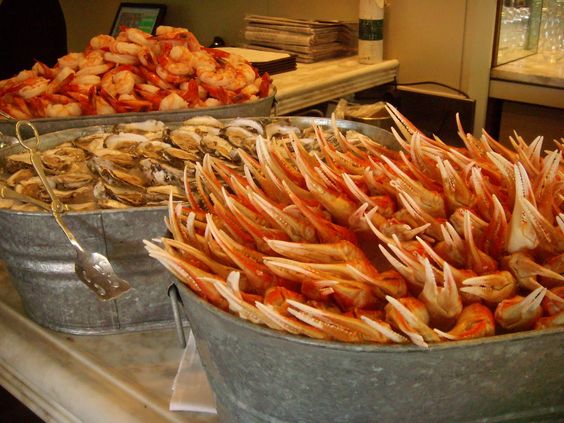 Especially if you've chosen an under the sea theme for your Quince, select a menu that's also an ocean adventure!
Clam chowder

Shrimp skewers

Sesame seed crusted tuna steak

Grilled cedar plank salmon

Stuffed lobster tails

Fried Marlin tacos

Crab cake tater tots
Wild West Quinceanera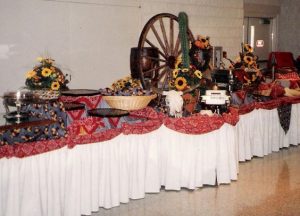 This is a great menu for casual Quinces. These dishes also make for a great potluck feast:
Coleslaw
Fruit salad
Mashed potatoes with gravy
Barbecue Pulled pork
Sliced Beef Brisket
Green beans
Cornbread
Quinceanera Menu Themes & Fun Ideas:
Let Them Eat Cake!
No matter what else you plan to serve your guests, the one thing that is always included in a Quinceanera is an ultra-fancy cake, not unlike an intricate wedding cake. And again, the style of the cake should go with your theme and the other types of food you serve at your reception.
Traditional Staircase Quinceanera Cake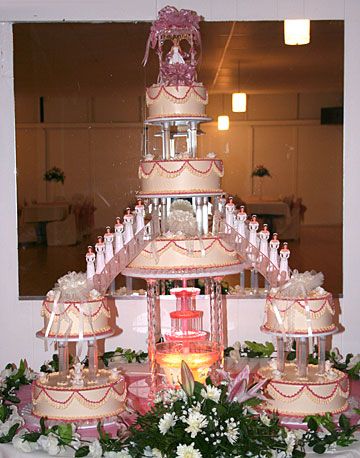 The traditional Quince cake has multiple tiers with staircases and a small Quinceanera doll on top. Miniature figures line the stairs representing the birthday girl's court of honor. But there are plenty of other options.
Greek Quinceanera Cake
Choose just about any cake you want but consider a touch of blue frosting like the Greek flag.  Tthen decorate with strands of laurel or gold leaves.
For sure, add to your sweets table baklava—layers of filo dough rich with honey and nuts—and a Portokalopita. This is a traditional Greek yogurt cake with orange syrup.
Click HERE or on the image below for a scrumptious Portokalopita you can make at home: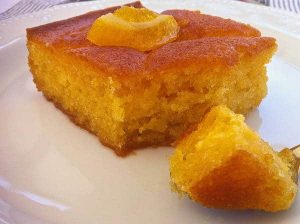 Oriental Quinceanera Cake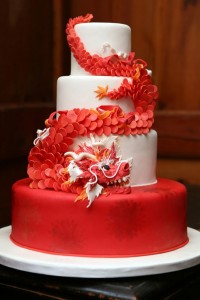 Make your cake a Chinese New Year dragon and then order fortune cookies with your own personal message!
Click HERE or on the image below for custom fortune cookies from Cookie Planet: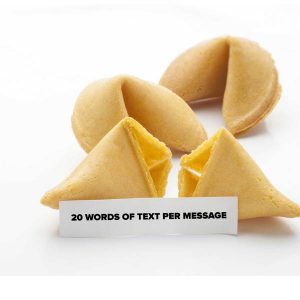 Parisian Quinceanera Dessert Ideas

For sure, add eclairs and madeleines to your sweets table. Or skip the "cake" altogether and go with a traditional French delicacy—a croquembouche—a pyramid of either small pastry balls or macarons filled with vanilla cream. If nothing else, be sure to add one to your sweets table!
Seaside Quinceanera Cupcakes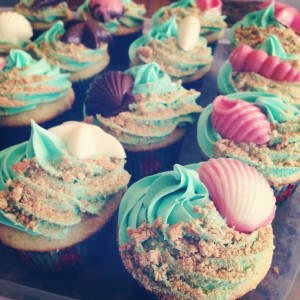 Decorate your cake with shells, fishing net, and starfish, then serve a tower of seashell cupcakes decorated with brown sugar and molded candy seashells.
Click HERE or on the image below on how to
 make the candy shells at home: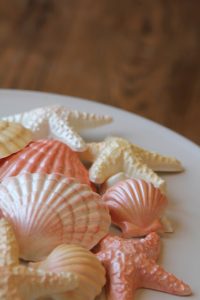 Wild West Quinceanera Cupcakes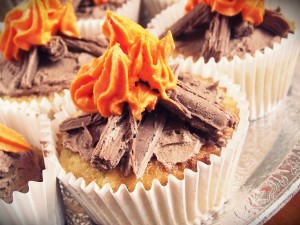 Then top it with a show-stopping single layer cake decorated to a stunning extreme!
Click HERE or on the image below for how to make the cupcakes plus other Wild West Quinceanera theme ideas: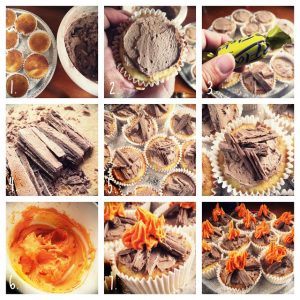 The possibilities are endless! Whatever theme you may choose for your Quinceanera reception, what matters most is that your party is enjoyed by everyone—but most of all you!
For some great ideas for  your dessert table—
including
recipes
—Click HERE or on the image below for our blog Quincenera Desserts & Delights: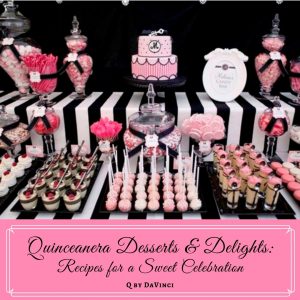 For the very best collection of great ideas for planning your Quinceanera & adapting to circumstances that may have delayed your big day, Click HERE or on the image below for Q by DaVinci blog: