As promised, there are our Stunning & Unexpected Quinceanera Themes Part 2 – ten more of the most unique ideas our team could find.
Again, just use our keywords to do a search to find details on specifics—invitations and outfits, decorations, etc. Also, don't just search for "galaxy theme Quinceanera." Include a search for "galaxy party," too. It couldn't be easier!
Check out these top picks for the most charming, interesting, and original Quinceanera themes to make your day truly about you.
Stunning & Unexpected Quinceanera Themes Part 2
11. Galaxy
If you're a stargazer, or just have dreams that reach the stars, why not opt for a Quinceanera that's literally out of this world? Think black and deep blue, twinkling stars on your dress and in your hair, fiber optics, and glittery decor all around. 
12. The Hunger Games
Feed your Hunger Games fever and be Katniss Everdeen for a night. And how more perfect could any surprise dance be if it was choreographed to this amazing remix of "The Hanging Tree" from Mockingjay Part 1?! It's even exactly the right length—just under 2 ½ minutes!
Click HERE or on the image below for the YouTube remix:
Note: It starts slow but picks up right away!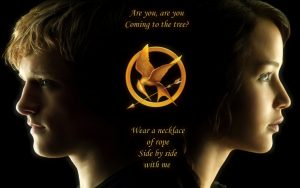 13. London Town
This is absolutely not your usual Quince theme, but especially if you love the idea of a European theme, but don't want Paris because you feel it's been done too many times, then a London theme would be perfect for you. Decorate with Big Ben cutouts, tiny red phone booths, Union Jack flag photo booth, and wear a dress with a royal train.
Doll up your phone booth with flowers for the perfect photo-op!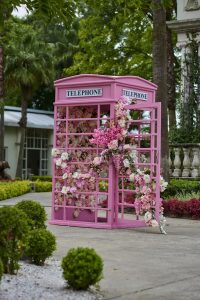 Stunning & Unexpected Quinceanera Themes Part 2
14. Literature & Latte
For a theme that expresses your nerdy but elegant side, take your Quinceanera inspiration from your love of books.
Any color scheme will work. Simply name your tables after your favorite titles, play trivia games with Shakespeare and other famous quotes, and decorate with reading glasses, loose pages from discarded library books, and centerpieces of books topped with a single candle or a nosegay of flowers.
And of course, have a knockout coffee bar with lattes and maybe even rent a cappuccino machine!
15. Lowrider
Transform your Corte de honor into a team of cholos and cholas.
Keep it classy with hats for the guys even with their formal ceremony wear and then change into coordinated outfits for your baile sopresa.
Arrive in style riding in a lowrider, and have your reception outdoors so your guests can show off their cars, too.
16. Miami Nice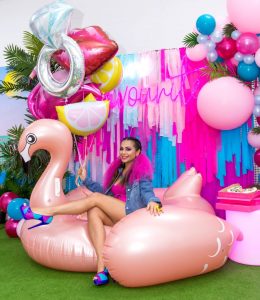 Yes, we mean Miami Nice, not vice! Flamingoes, palm trees and a corte de honor dressed all in white will transform your Quince into an evening in South Beach. Choose tropical colors in any combination you like.
Click on the image to check out this website for Miami themed party supplies & decorations:
Stunning & Unexpected Quinceanera Themes Part 2
17. Mexico
If you can't celebrate your Quinceanera in Mexico, bring Mexico to you!
Go all out traditional with an all-male Corte de honor in sombreros, a mariachi band, and traditional Mexican food. Perhaps you'll even be lucky enough to have someone in your family who can embroider your dress!
18. Murder Mystery
If you love reading a good murder mystery and have a little touch of the dramatic actress in you, consider a murder mystery Quince. You can wear a traditional white dress for your ceremony and outfit your court in a beautiful evening look for the ceremony and opening proceedings—tuxedos or white shirts, black ties and vests for the guys and a lovely outfit for the girls, maybe in a luxurious green satin—then change into 1920s attire for your surprise dance and the rest of the party.
For everything you need to know about throwing a great murder mystery event, plus free printables, CLICK on the IMAGE to check out this site:

19. Classical Music Quince
Do you play the piano or in your school's orchestra, or sing, or just have a love of the classics? Then throw a classical music Quinceanera with a sheet music bouquet and boutonnieres, then decorate in white, black and red (or another rich jewel tone), and hire a live string quartet as part of the entertainment. And of course, they must play for your waltz!
Stunning & Unexpected Quinceanera Themes Part 2
20. Parasols
This is a great Quinceanera idea. It's more a "direction" than a set theme because you don't have to stick to just one style. You can have feather or lace parasols for your damas to carry for the procession and photos, use Japanese parasols in your surprise dance, and then choose paper parasols in your theme colors for centerpieces and other decorations.
CLICK on the IMAGE to check out Pearl River, the go-to place for everything parasol-related: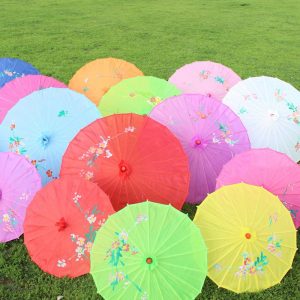 21. Pirates of the Quinceanera
A Pirate Quinceanera certainly isn't traditional—but maybe you aren't traditional! Use a simple black and red stripe color scheme against white with pirate flags, candles, treasure chests and fishing nets. Wear long gloves with your red and black dress.
CLICK on the IMAGE for inspiration from Riker Lynch's
paso doble
on
Dancing with the Stars
and dance your baile sopresa to this
perfect
length version of the theme from
Pirates of the Caribbean
: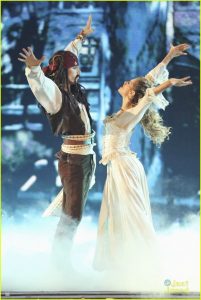 https://www.youtube.com/watch?v=27mB8verLK8
Don't miss the rest of our Stunning & Unexpected Themes series! CLICK ON EACH IMAGE below to check out more ideas: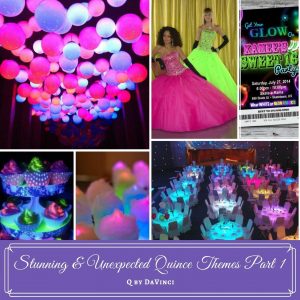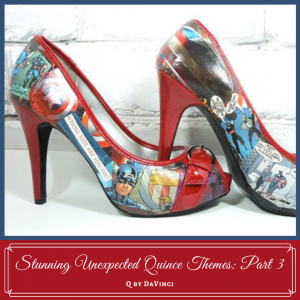 For the very best collection of great ideas for planning your Quinceanera & adapting to circumstances that may have delayed your big day, Click HERE or on the image below for Q by DaVinci blog: