You deserve a beautiful celebration, but you don't need to go broke when it comes to planning your Quinceanera. With these great tips, you can throw a fabulous party that still looks expensive. With some creativity & a willingness to "have it all" but on a smaller scale,  our tricks and tips will keep your Quinceanera budget under $2000 and maybe even less!
How to Plan a Quinceanera Under $2000: Quinceanera Dress & Makeup
All of our Quinceanera styles are affordable, but if you want a gorgeous & unique outfit, check out these styles that are two dresses in one. Just take off the big ball gown skirt & you have a pretty dress to party in!
Q by DaVinci Style 80411
This dress has a long peplum on the bodice. Remove the ball gown skirt for a hi-low mini dress. It also comes with a custom embroidered jacket!
Available in: Black/Cerise & Champagne/Gold
To see more details Click HERE Q by DaVinci Style 80411
Q by DaVinci Style 80426
Like the previous style, this dress also has a long peplum on the bodice. But when you take off the ball gown skirt, you have a knockout hi-low mini dress with a dramatic train.
Available in: Flamingo & Wine
To see more details Click HERE Q by DaVinci Style 80426
Q by DaVinci Style 80402
For the ultimate fun look, go with this three-piece dress with a cropped bodice & a separate mini skirt to change into.
Available in: Nude & Tiffany
To see more details Click HERE for Q by DaVinci Style 80402
Make Hair & Makeup a Family Affair
Scout YouTube and magazines for DIY hair and makeup designs, then ask your mom and friends to help you practice for your big day.
Tip: You can get a free makeover at a fancy department store cosmetics counter to get started and also learn where and how to contour. Some salons, beauty schools, and upscale cosmetics places like Ulta sponsor free hairdo days as a promotion.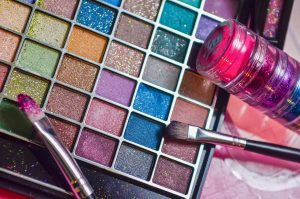 How to Plan a Quinceanera Under $2000: Guest List & Invitations
Guest List: VIPs Only
Never mind your second cousins and half your class from school. Stick to those who have really been there for you and who will be the most genuinely happy to celebrate with you.
Tip: Yes, you can still have a court of honor. Just don't have 15 people. Do it like a small wedding: one BFF girlfriend for a dama and one guy you really like for your escort.
e-Vite Your Invites
Skip the paper, stamps, and snail-mail and invite your guests electronically. You do want to use an invitation site, though—don't just send Facebook invites.
(You can use Facebook for updates—just not too many. You don't want your Quince to look like a reality TV show! "Keeping Up with the Quinceanera" isn't a good idea.)
Try one of these sites or find another to your liking:
Paper Invitation Tip: If you really want paper invites, then go for a one-piece design with a postcard RSVP card or, if you can find it, a one-piece invitation with a tear-off postcard RSVP. That way, you'll only need one envelope stamp and one postcard stamp—and postcard stamps are a lot cheaper than envelope stamps!
Yes, you Can Have Both: Digital Invitations & Paper Invitation Keepsakes!
Click on the image to see this pretty template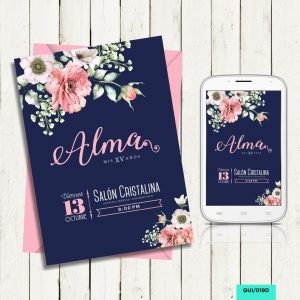 Source: Etsy.com
How to Plan a Quinceanera Under $2000: Food & Decorations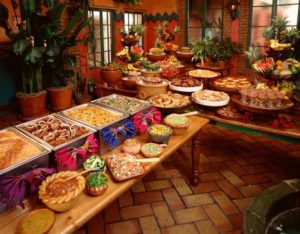 Source: Pinterest
5 Ways to Save on Food
If you choose a formal venue, ask if a buffet is cheaper.
Or find a formal venue that will let you bring your own food.
Have an intimate dinner at your house.
Celebrate with a backyard picnic.
Have dinner at a moderately priced restaurant.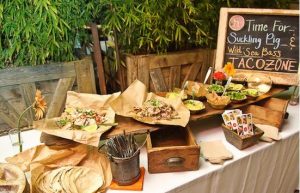 Decorate with DIY Dollar Store Decor
You'll find loads of ideas for Quinceanera decorations on a dime on Pinterest. The trick is to look at wedding ideas. Here's one stunning 5 Minute Quinceanera centerpiece, but you'll find plenty more, so go to work on that Pinterest board!

Source: Pinterest
Repurpose Your Ceremony Decorations
This is another time to look for wedding decoration ideas that will work for your Quinceanera. Some churches may require that you leave your altar arrangements, and some may tell you no pew bows, but ask & see what the church says:
Use your altar arrangements on pedestals to flank your head table.
Set your damas' bouquets in the middle of each guest table for a low centerpiece.
Put your bouquet on your cake table as an accent.
Tack the pew bows around the venue in places like the corners of the buffet and sweet tables.
Put a pew bow at the front of your cake table & one on the back of your chair.
Hang the rest in a row at the top of a simple backdrop to make an instant photo booth.
If you can't have pew bows at the ceremony, they're still a fantastic budget decorating idea!
Fake Flower Bouquet with Colored Ribbon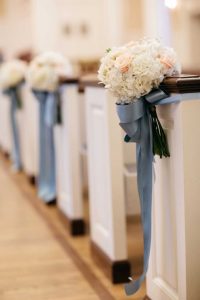 Source: Pinterest
Colorful Tulle Pew Bows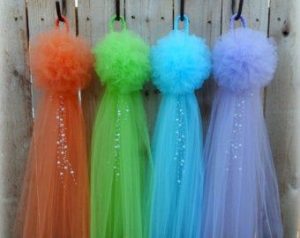 Source: Pinterest
How to Plan a Quinceanera Under $2000: Party & Pictures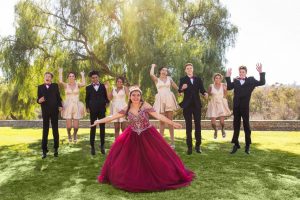 Source: 2 Dads with Baggage
Run Your Own Dance Party
You don't need a pricey DJ. Just create your own iPod playlist and pipe it through speakers. Here's a basic game plan:
Gather Your Equipment. Check out the list above, and go about buying or sourcing all of the gear you'll need to self-DJ like a pro.
Rent Amplification
Build Your Playlists
Ask for Guest Input
Edit and Fine-Tune
Test It Out
Assign Music Captain/Emcee
Have a Backup Plan
Tip: If you really must have a DJ, find one who'll do a fun package for you with lights and a fog machine and only book him or her for a couple of hours.
Use Your Family as Photo Pros
Here's a GREAT resource: Must-Have Shots for Your Quinceanera
Yes, it's a long, long list, but use it as a guide!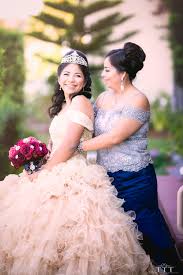 Then set things up with these ideas:
Create a hashtag for uploading photos from your guests' smartphones.
Buy a bunch of disposable cameras for the tables. (You'll end up with a lot more "important" pictures because your friends and family know who's most important to you.)
Tip for limited pro photography: Book a pre-Quinceanera photo shoot, then use one of those portraits on your invitation. You can also hire a pro photographer just for an hour or two to take formal portraits of you, your court, and your family.
Keep It Creative & Have Fun Planning!
Give some of these solutions a try as you plan your Quince. Even if you only use a couple of these ideas, you'll cut way down on the budget. Not only will that make your parents happy, but you'll have a Quince that you can really be proud of because you put the thought and effort into making it gorgeous and affordable!
Find everything you need to plan your perfect Quinceanera on our website—our dresses, our blog—everything! Click HERE or on the image below for Q by DaVinci & get started!