Your Quinceanera has deep roots & more tradition than you might think. Check out these 6 Quinceanera Traditions: The How & Why Behind the Celebration.
A quinceanera—also known as a quince años, or quinces—is a way to embrace religious traditions, the virtues of family, and social responsibility. But most importantly, it's a celebration of your transformation from a young girl into an adult.
It's your way of telling the world that you're leaving behind your childish ways and are making a conscious step forward into maturity.
Normally a quinceanera is celebrated when the young girl turns 15, and is somewhat similar to a "Sweet 16." Naturally, though, as a quinceanera is rooted in Latin culture, there are still many differences. 
6 Quinceanera Traditions:
The Catholic Thanksgiving Mass
As mentioned earlier, the quinceanera, like most Catholic traditions, start with a religious ceremony.
You will enter the church in a procession, accompanied by your court, your parents and your godparents.
The readings are normally chosen by you, the celebrant, in order to make them more meaningful.
You can also opt to read yourself, or have someone special read.

After the Gospel and the Homily, you will renew your Baptismal promise, and commit yourself to God and the Virgin Mary.
In line with becoming an adult, this is your way of owning the promise your parents made for you when you were baptized, and make those vows your own.
The Court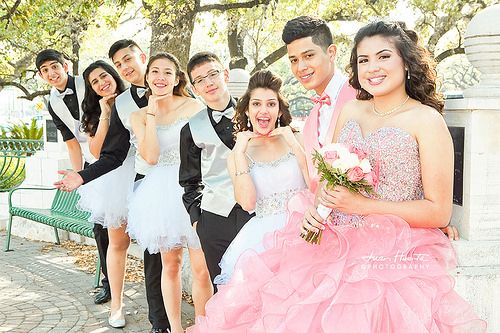 Your court first appears when they accompany you into the Church.
The original tradition was to have 14 boys — chambelans, escortes, or galans
14 girls — damas
and a male escort for the celebrant
The total of 15 couples is meant to symbolize each year of the celebrant's life.
Now, however, it's been more common that there are 7 boys, 7 girls, the celebrant and her escort.
Invite your closest friends and family members to join you on this, to make the experience more meaningful.

The dresses of your court should be similar to each other, and the boys are expected to wear tuxes or other formal dress clothes as well.
This will help the coordination during the reception, where they will all partake in a dance with you.
It would be best to sit them down and make sure they understand what they're getting themselves into, though!

If they don't practice the same customs, they may not know anything about a quince at all.
6 Quinceanera Traditions:
Father-Daughter Dance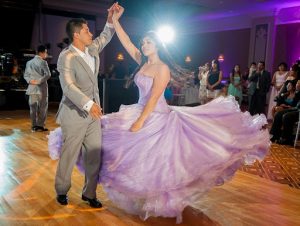 The first dance at the reception is normally for you and your father.
He'll pick a song of meaning to the two of you – maybe something you two normally dance to at home or is always in the background, or something he has sung to you before.
This represents your first public dance and is a way for your father to present you to your guests.
This also symbolizes that your father is the first man in our life.
The Waltz
Hopefully, your court has a dance step or two within them, because traditionally, they'll take part in a waltz.
The Waltz is an elegant and choreographed dance meant to share with them and your escort.
With that many individuals, it's expected to take some time for everyone to catch on, so plan ahead!

If you opt not to have a separate father-daughter dance, the first part of the waltz is danced with him. After some time, he will hand you to your escort.
TIP: Wondering what song to choose for your Quinceanera Waltz?
Click HERE or on the image below for Songs NOT to Choose for your Quinceanera Waltz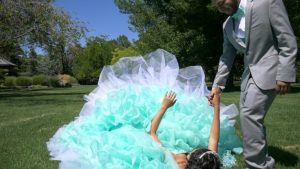 6 Quinceanera Traditions:
The Quinceanera Gown
As your first "adult dress," your quinceanera gown will be a lavish one.
Traditionally, a lot of tulle is used to achieve a princess look.
If you prefer something less extravagant, silk or taffeta are common options as well.

Normally, white or a light pink is used, but in more recent times, the celebrant has more options.
Try to keep within the pastel family, though: The color is supposed to represent purity, a symbol of virginity – and to honor those of more traditional thinking, take their feelings into consideration when it comes to your color choice.
Traditional Quinceanera Gifts
Aside from other birthday presents, you'll receive some traditional ones from your family. These symbolize different aspects of the party and your transformation into a woman.
High Heels: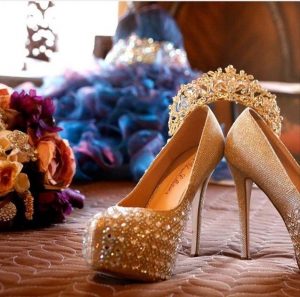 Normally given to you by your parents, they symbolize your first pair of "adult" shoes. In fact, this gift can take on a ritual all its own:
Your parents will remove the flats you've been wearing all day, and replace them with the heels.

Symbolically, your flats represent your childhood, while heels represent your stepping into adulthood.
The Last Doll: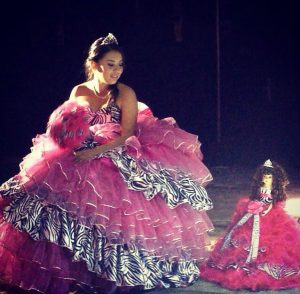 The doll will traditionally be provided by your father, and may be wearing a similar dress, or sporting a similar hair style as your own.
This symbolizes leaving behind your childish possessions, and taking in more mature interests in life and assuming responsibilities.
Fun fact: Some celebrants opt to throw the doll away to a pool of younger girls, the same as a bride throws her bouquet to a group of single girls.
Bracelet or Ring: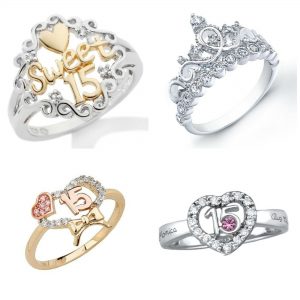 Your godparents may gift you with a piece of jewelry, such as a bracelet or a ring.
This symbolizes the undying love God has for you.
Tiara: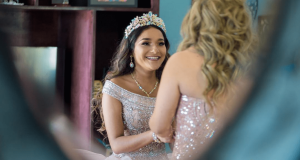 Like the high heels, a tiara is meant to take the place of a simpler headpiece and is placed on your head sometime during the ceremony.
It symbolizes that are a princess in the eyes of God. 
Need hairdo ideas for your big day? Click HERE or on the image below for Stunning Quinceanera Hairstyles with a Crown
Earrings:
While the other gifts symbolize something more socially meaningful or spiritual, earrings are more of a reminder.
They remind you to keep your ears open to God, and to listen closely to His word.
Bible:
The Bible is meant to keep your faith grounded, and for you to turn to in times of trouble.
It's meant to accompany you throughout the rest of your life.
Rosary, Medal or Cross: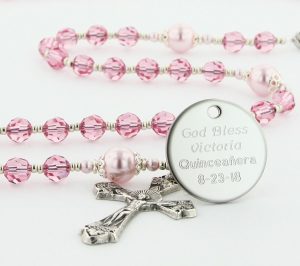 Central to the Catholic faith, the Bible expected to play a central role in your life as an adult and to assist you in your prayers.
It's also likely that you'll receive a medal of a Patron Saint.

The medal will differ based on what the gift giver wants for you.

Just the same, a cross may be given to symbolize faith in God, yourself and your world.
Scepter: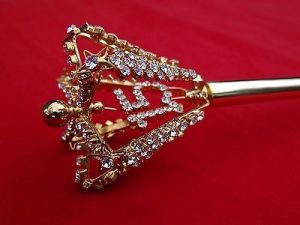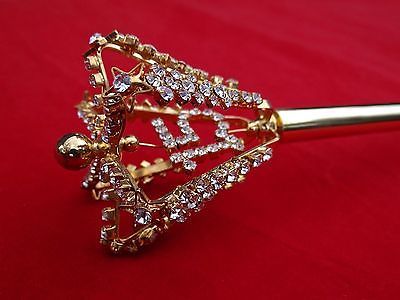 Being given a scepter, and your acceptance of the same, symbolizes your acceptance of the responsibilities that come with being a woman. It also symbolizes authority.
You may think that a lot of the traditions are over-the-top, and completely irrelevant at this day and age, but traditions do count for something. Embrace them! Don't shy away.
For more fun Quinceanera traditions, planning tips & beautiful dresses Click HERE or on the image below: